*The number order in this list is not determine their ranking.
1.Murni Discovery
They have many branch as known as murni petaling jaya,murni sunway mentari,murni ss7 and so on. All the variety of beverage are include the originality and standard method .the famous beverage is I love you, I miss you, I kiss you,3 layer coffee, pink panther. All the beverages are recommended by people and food lover.
2.Polpero Steak House
Big portion with an affordable price. Best place to have a quick meal with family or friends. Quiet environment. Fast services. Would recommend others to dine here.
3.Hadramawt
Hadramawt Kitchen located nearby the many automotive show room area in Glenmarie Shah Alam. The food is great value and taste good without burning a hole in your pocket. This is a comfortable place to dine in with families. You can choose whether to sit on normal table and chairs or Arabic seating style on low table. Order the roti Arab, appetizers and lamb rice which all good.
4.Sips and Bites Cafe
Sips & Bites is a family-run café, with a bright interior painted in cool shades of blue and silver. Painted pictures of coffee and flowers adorn the walls, while diners have relaxed conversations below them.
5. Big Brothers Restaurant & Grill
If there is one popular cuisine in Shah Alam that keeps hungry patrons coming back for more, it would be Western food! Big Brother Restaurant & Grill is a fine example of Shah Alam's western dining scene. The interior is warm and welcoming, with nostalgic wall posters of Bruce Lee and Elvis Presley!
6. Mozers
Middle eastern Restaurant or Syrian restaurant, love the fresh toasty flat bread with hummus , service was fast and good , ambience was nice and Cosy , the kebab lamb rice was tasty too.
7. Restoran Hatinie
Hatinie is a restaurant tucked in Seksyen 10 that whips out a plethora of dishes, including an authentic selection of Kelantanese delights. This is the place where you can dine in for breakfast, brunch, lunch, and throughout dinner.
8. Grandeur Gallery Cafe
Grandeur Gallery Café is both an art gallery and a café, providing diners with tasteful art and tasty food! Brunches and cakes are served on the first floor, while art pieces and paintings decorate the walls. If you like something you see, you can even take it home to support the art community! If you need advice on what you should order, try out their specialty food: pork chop burger and BLT sandwich. If you are there on the weekends, you can take chances on the scrambled eggs and the Grand Brekkie set as well.
9. Dewakan Restoran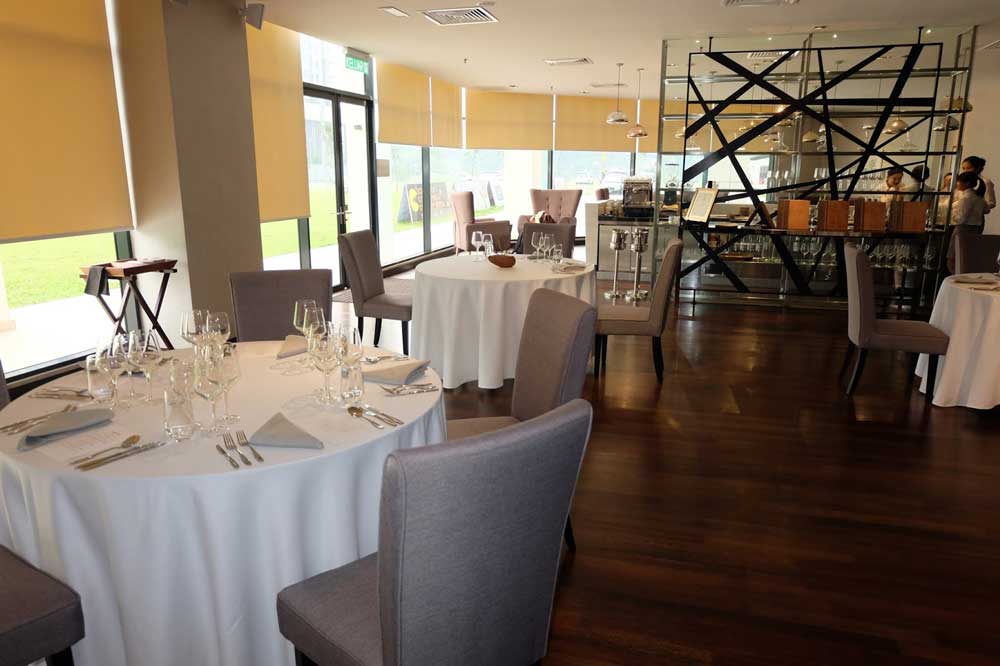 The Klang Valley's best new restaurant so far this year is an unassuming venue with an ambitious vision, spilling over with a cascade of culinary surprises that coalesce into an enriching experience to remind guests that with great food comes great joy. If you can only visit one restaurant right now, make it Dewakan, which served the most compelling meal I've had in 18 months. 'Dewakan' is a marriage of two Malay words – 'Dewa,' or God, & 'makan,' or eat. Essentially, the restaurant celebrates food from God, embracing the life-affirming bounty of the land & sea, from farms to forests, mountains to the coastline, & paying homage to nature's produce on plates of juicy roast king oysters mushrooms, mackerel flakes, green curry pesto & yoghurt.
10. Vibes Cafe and Bistro
Located within the new mall of Utropolis Marketplace is Vibes Café and Bistro, the hippest joint on a block filled with a host of dining options. The space is outfitted with wood and steel furnishings, communal tables great for big groups, and a bar counter for solo diners. The menu stays true to classics with wallet-friendly prices; go big with the all-day big breakfast, or keep it simple with waffles, sandwiches or local dishes like nasi lemak and chicken rice. The coffee here offers a great caffeine boost too.