*The number order in this list is not determine their ranking.
1. Restaurant Saba
Their Arabic rice meals such as Kabsah, Hanith, and Mandi attracted customers from all over the country. Still growing strong to this very day, they also serve a wide variety of Turkish dishes and mixed platters.  The foods taste delicious. Overall, very suggested to people who want to eat some middle eastern foods.
2. Its A Grind Coffee House
Offering fuss free coffee, tea and other beverages, this café sits in an area that is very close to office buildings, thereby making it a convenient coffee stop on your way to work. They offer an impressive selection of sandwiches to go with your drinks, as well as some pastries and pies.
3. Tokio Cafe
If you're looking for a place that serves great Japanese fusion food, you've come to the right place. Tokio Café not only offers modern interpretations of traditional Japanese favourites like curry rice and 'don', it also offers full fledged western dishes.
4. Sana'a Restaurant
Sana'a Restaurant serves all the middle eastern cusines, which are fully prepared by their professional chefs from Yemen and Iraq. It is located in Cyberjaya, Selangor. They are known for their Mandi Chicken and Hummus.
5. Xing Zhu Restaurant
Xing Zhu which is located in Cyberview Resort and Spa do serves a good chinese dim sum. The restaurant itself offers an array of dim sum and Cantonese specialties for lunch and dinner. Located just opposite at the Cyberview Gardens Complex. The selection in the buffet are plentiful and delicious too. Do heads to Xing Zhu for their dim sum buffet.
6. Monjo Coffee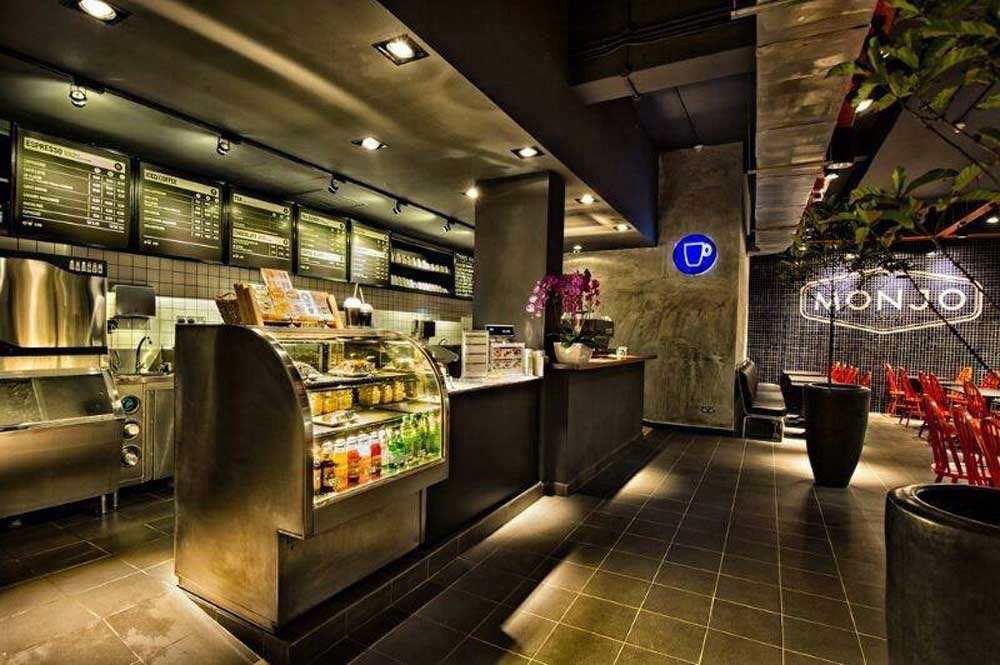 Enjoy your coffee, tea or chocolate in a completely minimalistic environment at Monjo coffee. They also have budget lunch sets daily and they day we were there, it was a delicious and juicy grilled chicken thigh served with your choice of salad, spicy rice, Mediterranean rice or pasta.
7. Salam Noodle
Majority of their dishes are noodle based, some rice dishes one or two dumplings and satay. In terms of meat, the majority in equal proportion is beef and mutton and a small number of dishes carry chicken. The soup itself had a very 'Mainland China' taste to it which is something that I love. Being dishes that hail from Xinjiang province in Northern China, it is not like anything that we have tasted before in any of the Chinese restaurants in Malaysia.
8. Kung Fu Restaurant
Kung Fu Restaurant is an outlet which offers a variety of non-Halal Chinese food and is located in Shaftsbury Square, Cyberjaya. They serve Chinese cuisine and all the dishes are made by experienced, master-class Chinese chefs. Most of their food is healthy and steamed good.
9. Hammurabi Restaurant
Elettaria cardamomum, commonly known as green or true cardamom, is a herbaceous, perennial plant in the ginger family. It is the most common of the species whose seeds are used as a spice called cardamom. The mixed grill is an assortment of meats consisting of lamb, beef and chicken. It comes covered in fries and with garlic sauce on the side. It was delicious.
10. Kiraku Japanese Restaurant
Kiraku Japanese Restaurant provides the best in Japanese cuisines. The restaurant is non halal due to alcohol serving. However, all of our meat based products & ingredients are from halal certified supplier and we are pork free. Kiraku also has private teppanyaki rooms, where the kitchen team reputedly puts on a fun show. Service here lives up to the standards set by the cuisine. Kiraku also has private teppanyaki rooms, where the kitchen team reputedly puts on a fun show. Service here lives up to the standards set by the cuisine.