The durian is the fruit of several tree species belonging to the genus Durio. There are 30 recognised Durio species, at least nine of which produce edible fruit, with over 300 named varieties in Indonesia, 100 in Thailand and 100 in Malaysia. Durio zibethinus is the only species available in the international market: other species are sold in their local regions. It is native to Borneo and Sumatra. Named in some regions as the "king of fruits", the durian is distinctive for its large size, strong odour, and thorn-covered rind. The fruit can grow as large as 30 centimetres (12 in) long and 15 centimetres (6 in) in diameter, and it typically weighs one to three kilograms (2 to 7 lb). Its shape ranges from oblong to round, the colour of its husk green to brown, and its flesh pale yellow to red, depending on the species. Some people regard the durian as having a pleasantly sweet fragrance, whereas others find the aroma overpowering with an unpleasant odour. The smell evokes reactions from deep appreciation to intense disgust, and has been described variously as rotten onions, turpentine, and raw sewage. The persistence of its odour, which may linger for several days, has led to the fruit's banishment from certain hotels and public transportation in southeast Asia.
1. Say Heng Durian Stall
We have over 20 years of experience in the Durian business industry. Our company provide all types of local Durians such as Raja Kunyit, D24, XO, Tracka, Udang Merah and etc for retails and Durian party.
Address : USJ Pedak 11&12, Kiosk USJ 14, Subang Jaya.
Operating Hours : Monday-Sunday 12.00pm-12.00am
2. Sinnaco Durian Specialist
Sinnaco Durian Specialist is a place where they provide sincere service and comfortable environment around Petaling Jaya. They've got fresh durians from the farms in Pahang, Penang, Perak and Johor delivered to PJ daily.
Address : No, 60, Jln 19/3, Seksyen 19, 46300 Selangor
Operating Hours : Monday-Sunday 12.00pm-12.00am
3. Chen Brothers Durian&Fruit
Chen Brothers Durian&Fruit is the most sought after durian stall in Kepong. Many people love coming due to their durian's "exceptional quality".They are one of the most reliable places to buy durians as they only offer the very best quality of durians rich in both flavours and tastes. Chen Brothers serve a wide variety of fresh durians ranging from Pahit Manis, Musang King, D24, D101, Udang Merah, Pokok Tua and lots more.
Address : Jalan Mergastua, Kepong Baru, 52100 Kuala Lumpur, Wilayah Persekutuan Kuala Lumpur
Operating Hours : Monday-Sunday 1.00pm-11.00pm
4. Soon Huat Durian
This Soon Huat Durian is one of the most well known durian spot in Ampang, situated by the busy Jalan Cempaka. It was founded at 1993. It's 25 years old and of the oldest durian stalls.
Address : Jalan Cempaka 3, Taman Cempaka, 68000 Ampang, Selangor.
Operating Hours : Monday-Sunday 11.00am-11.30pm
5. Durianity
Durianity is not like any of their competitors, just looking at their menu you'll get a gist on what I'm talking about. They're the only durian-themed Cafe centred around the unique sweet and savoury flavour palette of durians in Puchong, bringing you exotic dishes like Durian Pizza, Durian Fried Rice and even Musang King Nasi Lemak.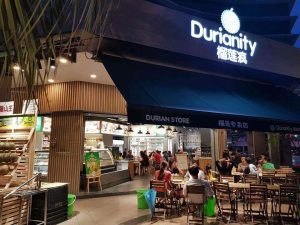 Address : G21, Ioi Boulevard, Jalan Kenari 6, Puchong, 47170 Puchong, Selangor
Operating Hours : Monday-Sunday 10.45am-11.00pm
6. City Durian Specialist
City Durian Specialist is an ideal place to hang out for locals and tourists as it is strategically located within Bukit Bintang "Golden Triangle". This is a much-favoured place for locals and tourists. People flock to this spot to taste delicious, creamy and thick durian flesh in seek for comfort. Before you leave don't forget to take a picture with the huge durian sculpture at the entrance.
Operating Hours : Monday-Sunday 11.00am-11.00pm
7. Donald Durian
Donald Durian is one of the most legendary durian spots in Petaling Jaya. It's founded by the late Mr.Donald, this humble durian store opened over 20years ago and now manned his wife Cynthia. The customer comes first, and here at Donald's Durian, "Quality is our Priority". We've appeared on Television, Newspapers, and Radios to spread the word on the much loved spiky fruit!
Operating Hours : Monday-Sunday 11.00am-11.00pm
8. Durianman 
It's impossible to miss this durian stall if you're driving by the SS2 neighborhood – it's arguably one of the largest and most organised, complete with online delivery services, it's own collection of YouTube videos, and vacuum packaging services to make the fruit safe enough for air travel. SS2 Durian House owner Ah Chew has been in the business of selling durians for two decades.
Address : Lot 7680, Jalan SS2/24, SS 2, 47300 Petaling Jaya, Selangor
Operating Hours : Monday-Sunday 12.00pm-12.00am
9. Durian King TTDI
One of the most popular durian joints we have is Durian King TTDI. Located in the carpark lot adjacent to the TTDI market. Not only are local celebrities flocking the area to sample their yummy offerings, but tourists from other countries come to try out the durians at Durian King TTDI.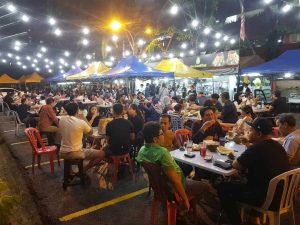 Address : 79, Jalan Wan Kadir, Taman Tun Dr Ismail, 60000 Kuala Lumpur, Wilayah Persekutuan Kuala Lumpur
Operating Hours : Monday-Friday, Saturday-Sunday 3.00pm-12.00am, 1.30pm-12.00am
10. Durian BB Park
DurianBB was established in 2015 to bring customers all over Asiathe finest samplings of Musang King durians.
DurianBB Park is a concept founded by the team behind DurianBB to extend durian feasting to its customers. Kuala Lumpur, the first cityto have its own flagship, welcomes locals and tourists from all over the world.'
Address : 15, Jalan Kamunting, Imbi, 55100 Kuala Lumpur, Wilayah Persekutuan Kuala Lumpur
Operating Hours : Monday-Sunday 12.00pm-11.00pm